September 15, 2020 / By admin
The Pai Cristal all new TWISTER polishing pad is finally here.
TWISTER the new polishing pad
The only contact element between the surface and the polishing machine is the Polishing pad. The polishing pad is an essential element in a proper polishing process. This is why, for years, Pai Cristal has been constantly looking for new solutions, materials and shapes that can increase the performance of abrasive paste, polishing compound and polishes of Pai Car and Pai Boat Composites lines.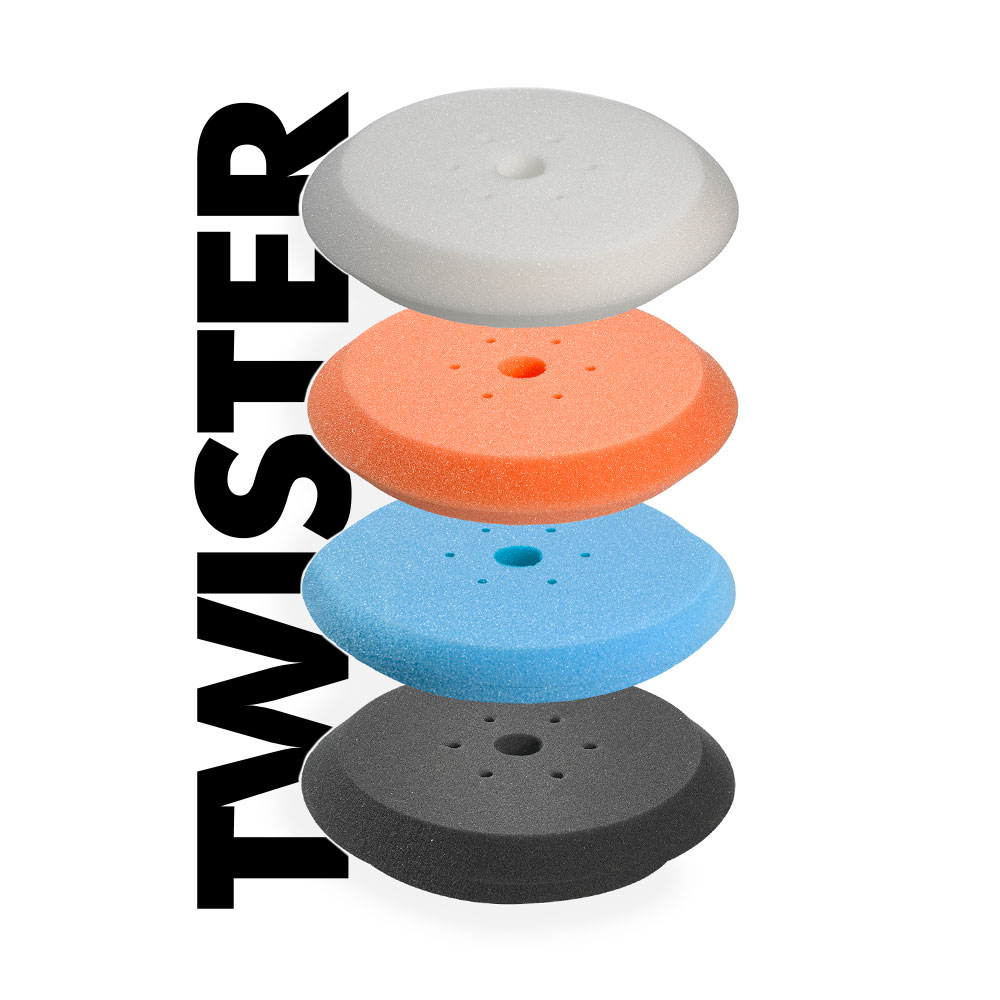 TWISTER the new polishing pad
These pads, in fact, represent a revolution for polishing and detailing cars but also for the treatment of fiberglass gelcoat and carbon.
TWISTER polishing pads have been developed by Pai Cristal to ensure the highest level of performance on any type of surface. Like all Pai Cristal polishing pads, TWISTER foam pads are also available in four different colours, each corresponding to a different foam hardness.
SELF-COOLING SYSTEM
Through self-cooling system, our pad "TWISTER" allows you to work even at high speed and with quite strong pressure, without overheating the treated surface. Hot air is pushed outward by centrifugal force, creating a vacuum that sucks in fresh air from the top of the pad under back plate.
SWIRLING PARTICLES' CATCHING
After a few moments of processing, residues of polishing materials bind with impurities of the treated surface, creating hard granules or balls, which roll under the pad and create circular scratches on the surface. The drilling system of our "TWISTER" pad let the balls or granules go into the holes and remain there blocked during the processing.
SELF-POSITIONING
Back plate places perfectly in the centre of the pad quickly and easily, because of its selfpositioning system. This not only saves time, but above all lets you to avoid annoying vibrations during processing. Pad shifting also produces an oscillating movement that is too fast and works too much on the treated area leaving well-known holograms.
ANGLED PROFILE
Because of its specific angled shape, "TWISTER" pad works easily on curved surfaces, which are more and more often according to new extreme designs, without impacting the area that has a different inclination. Pointed profile, not only can follow the curvature without removing pad from surface, but also reach the most difficult areas.
---
Fill out the contact form and find out how to test or purchase the new TWISTER polishing pads