May 5, 2021 / By Pai Cristal Italia
UV SHIELD boat premium seasonal wax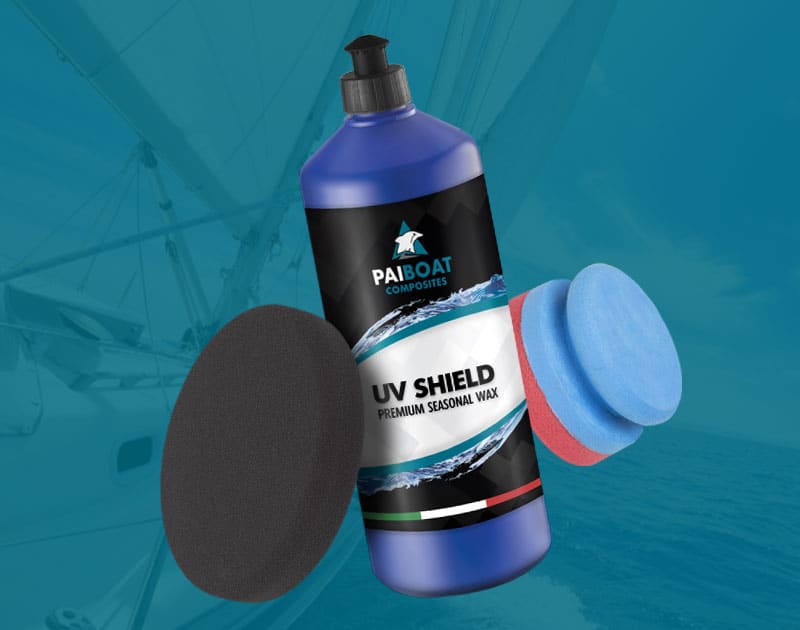 The warm season has finally arrived, with its long and bright days, and we are quickly moving towards Summer. It's time for whether big or little maintenance work on our boat to make it shiny and fast on the edge of the water.
In Pai Cristal Italia we want the time for maintenance to be increasingly reduced, to the benefit of time for leisure and relax. That's why our Pai Boat Composites division has developed a long-lasting protective wax: UV SHIELD.
We have formulated it together with professionals, experts in refitting, listening to their advice and following their indications on the "ideal wax", the one they always wanted. So: not hard and solid, but with the consistency of a polish and easy to apply. Not sticky but extremely easy to remove. And above all, it has to last an entire season.
This is how UV SHIELD was born: it is your high-performance seasonal wax, which combines, in its formulation, the best of the protective raw materials available on the market.
Tests have been conducted at an external laboratory with the aim of verifying UV SHIELD performance and the duration that the wax may guarantee. Tests were performed employing a QUV-B 313nm weatherometer, using intermittent spray and condensation at 60°C. This instrument simulates weather conditions in order to determine surface resistance to weathering.
As diagrams show, results indicate an improvement in gloss retention with continual use and a reduction in colour change. Tests were conducted on black gelcoat, applying UV SHIELD 3 times, a time every 12 hours. 12 hours correspond to about 6 months in reality.
Basically, UV SHIELD extends gloss retention over time and improves colour stability; colour remains deeper and brighter for longer.
By protecting the surface, we reduce oxidation and yellowing and postpone maintenance work. We will polish less and sail more.