Pai products become sanitizing – PAI CARE
Pai Cristal Italia takes care of you.
Now Pai Cristal presents a big news: the whole line of PAI CLASSIC abrasive paste for the eyewear, jewelry and fashion accessories and the PAI CAR car car cleaning products will be equipped with a green stamp: PAI CARE.
It means that all products will also perform a sanitizing function.
To ensure maximum cleanliness and hygiene, due to the recent pandemic Covid-19 Pai Cristal has chosen to change the formulation of the products for detailing, cleaning and care of the car PAI CAR.
New formulations to guarantee the maximum not only in the care of the surfaces but also in the complete disinfection.
The new PAI CAR products for car care and sanitization: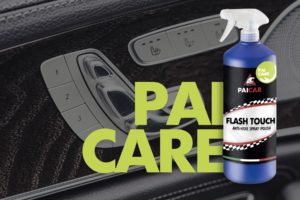 Pai Car – FLASH TOUCH Polish Spray the polish in spray version that now, in addition to cleaning and polishing, allows you to sanitize the surfaces in a single pass. FLASH TOUCH Polish Spray can be applied on paint, plastic, domma and glass. The surfaces will remain bright, clear and sanitizing for a long time.

Pai Car – TX-TL Detergent car fabrics The detergent for cleaning car fabrics, allows you to clean and sanitize all the upholstery of the car, carpet, seat covers, mats etc. TX-TL Detergent for car fabrics thanks to its specific components, disrupts and removes organic stains and residues, leaving the surfaces sanitized.




Pai Car – TOP-DRESS Plastic renewer for cars Thanks to very fine waxes and state-of-the-art polymers, a TOP-DRESS Plastic renewer for car lets you clean and restructure plastic parts as dashboards, Internal plastics, beams, bumpers, etc., restoring the original condition. In a few seconds, the product deposits a semi-gloss film with an antistatic effect.

Pai Car – PAI-PLAST Plastic car cleaner
Thanks to its formulation based on waxes and polymers, it allows to clean dashboards, internal plastics, bandages, bumpers etc. cleaning the original condition and sanitizing the surface. PAI-PLAST Plastic car cleaner, will apply a semi-gloss film with antistatic effect.
Discover the PAI CAR sanitizing products and request your customized quote:
PAI CARE
The recent pandemic, has engaged the Research & Development laboratory of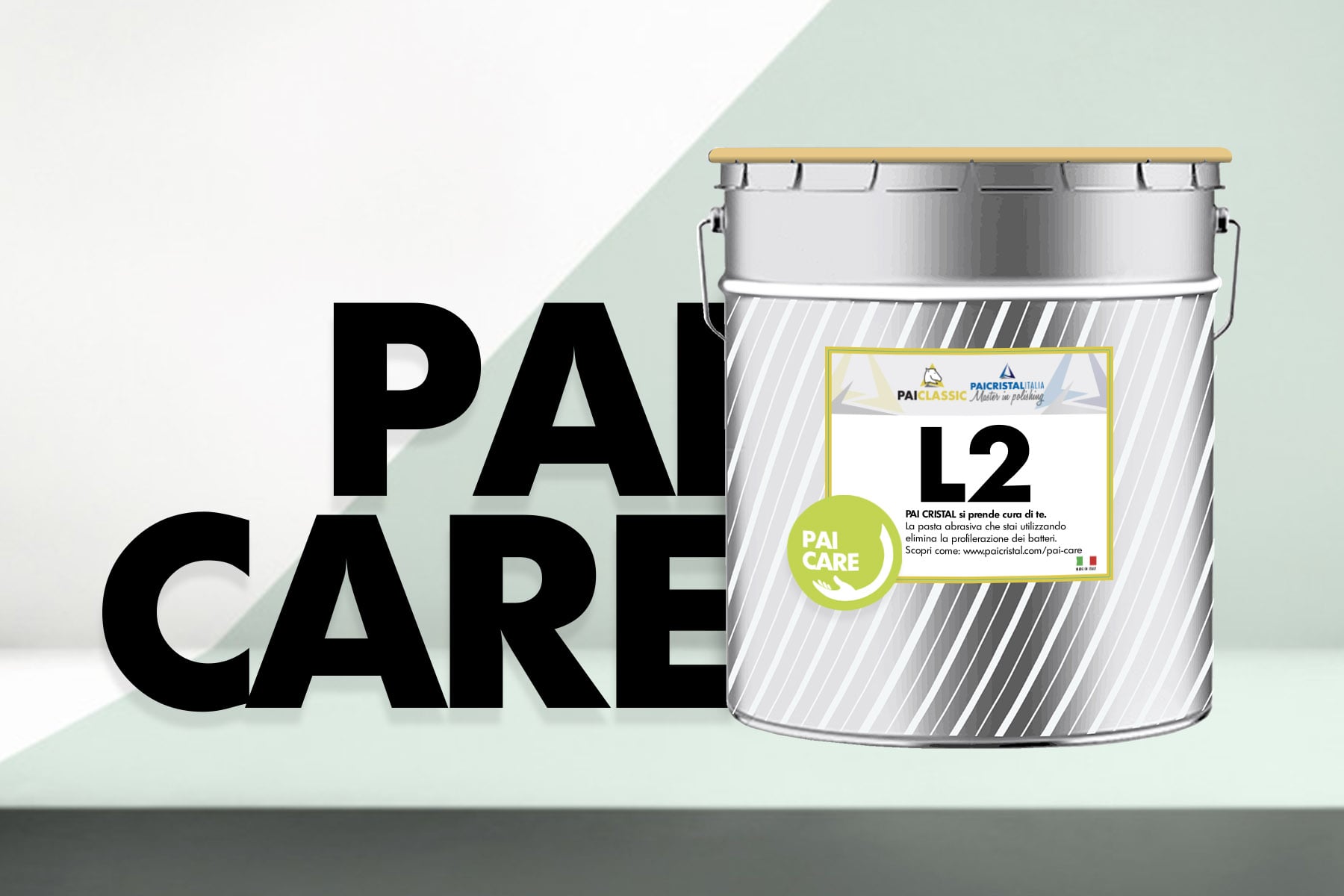 Pai Cristal also in the modification of abrasive paste PAI CLASSIC studied and developed for the field of eyewear, jewelry and fashion accessories. Now all Pai Classic abrasive pastes will have the PAI CARE stamp: The environment of abrasive pastes PAI CLASSIC – Pai Cristal highly hydrophobic, makes these abrasive pastes particularly unassailable from external agents. A Pai Classic abrasive paste, besides making the surface of a pair of glasses or a jewel perfect, must not allow bacteria and viruses to reproduce inside the tin. That's why Pai Cristal, Pai Classic and Pai Car take care of you